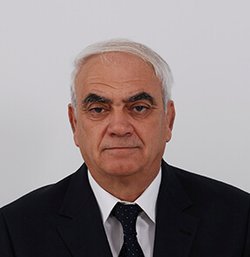 Menelaos Tsouplakis was born in Kissos, Pelion in 1957. He studied at the Athens University of Economics and Business, in the Department of Business Administration and Management. He holds two master's degrees in Business Psychology from the University of East London (United Kingdom), and in Public Economics and Policy from the University of West Attica, School of Administrative Economics and Social Sciences, Department of Accounting and Finance. M. Tsouplakis is also a graduate of the K. Karamanlis Institute for Democracy, in Political Education issues, and is registered in the National Register of Public Administration Executives.
Following a national competition, M. Tsouplakis joined the Ministry of Defense, where he started his professional career as a Financial Officer, charged with auditing and inspecting duties in procurement management (financial, materials and food) at the Air Force units.
In 1997 he was seconded to the Ministry of Finance in a Directorate dealing with ministerial budget and expenditure controls. In 2004 he served as Human Resources Management Consultant of the Ministry of National Defense, while in 2005 he was appointed as Human Resources Director in S.D.O.E. Central Services. At the same time with his appointment in S.D.O.E, M. Tsouplakis was also providing services as Instructor of Weapons and Defense Shooting in the Departments of Drugs and Weapons of S.D.O.E. Central and Regional Services. In 2008 he was appointed as Director of a big Tax Office in Athens and in 2009 he was transferred to the branch of Financial Inspectors.
Since 2013 and until recently, he was the Head of the Internal Affairs Directorate of A.A.D.E. charged with the responsibility of monitoring the work of the Directorate's Inspectors, in matters of corruption of the A.A.D.E employees. As Head of the Directorate he set the guidelines, in order to enhance the cooperation with the Financial Police, S.D.O.E. and the Port Authorities, leading thus to the establishment of mixed teams, on a case-by-case basis, aiming to carry out controls to combat smuggling and corruption, and to secure the interests of the Greek State.
M. Tsouplakis pursued and achieved to a large extent, the digital transformation of the Directorate. As a result, the Directorate utilized not only the data by the information systems of A.A.D.E., but also claimed and achieved access to information systems of companies or organizations outside AA.D.E. (financial institutions). Those companies are required by law to follow an institutionalized procedure and to provide sensitive information regarding the persons under control. M. Tsouplakis remained the Head of the Internal Affairs Directorate of A.A.D.E., till his appointment as the Chairman of the Board of Directors of National Transparency Authority (E.A.D.).
His professional career is characterized by an ongoing learning process, updating his cognitive background, participating in training programs either on related subjects (money laundering, application management OPSKY-ELENXIS) or, accordingly to his appointments (Applied Economics Tools in Public Organizations operation, modern methods of administration of Public Services, Special IT Issues and use of office support software, electronic protocol and digital signature). His professional experience was a key factor for his selection as a member of Service and Disciplinary Boards, as a member of committees, collective bodies and working groups, aiming to compose plans to fight corruption in the Public Administration, to evaluate employees for high hierarchy positions, to check suitability and competence of employees according to the job descriptions of the A.A.D.E. employees etc. Finally, M. Tsouplakis' thirty-three (33) year professional experience, in the service of the citizens, protecting the public interest, having no disciplinary or criminal pending, is definitely an asset to his career.